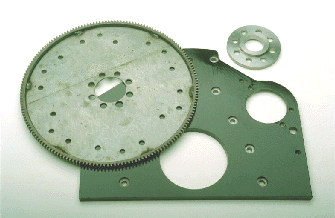 Byggsats för byte av motor i GM Pickup och Van till Volvo TD40 diesel
Conversion kit for changing engine in GM Pickup/Van to Volvo TD40/41 Diesel
Volvo TD40/41 är en 6-cyl turbodiesel som sitter i Volvos minsta lastbil F408 och F4. Den finns också som båtmotor och heter då TMD40/41, eller AQD40/41. Motorn är på 3,6 lit och 130 hk, eller 200 hk, om det är en 41:a. Max varvtal är c:a 4000 varv.
För att motorn skall passa i GM:s bilar, måste oljetråget byggas om, oljefiltret flyttas och motorns vattenkylda oljekylare bytas ut till en vanlig luftkyld kylare. Allt detta finns med i byggbeskrivningen. Som startmotor används Mercedes 5-cyl 300D. Den startkrans som medföljer byggsatsen har hål för de vanligast förekommande momentomvandlarna. Motorfästen bygger man själv enligt byggbeskrivningen.
AB Svensk Bilprovning godkänner ombyggnad till diesel, men då bestämmelser alltid är föremål för förändring, ligger det på köparen att själv ansvara för nyheter genom att ta kontakt med bilprovningen innan ombyggnaden startar.

Byggsatsen innehåller följande delar:

- Adapterplatta, 15 mm tjock.
- Startkrans som momentomvandlaren skruvas i.
- Adapter som sätts i änden på vevaxeln för att skruva fast startkransen.
- Adapter för luftkyld oljekylare
- Byggbeskrivning med text, bilder, ritningar m.m.

Volvo TD40/41 is a 6 cyl turbodiesel which normally is found in Volvos smallest trolleys F408 and F4. You can also find it as a boat engine, named TMD40/41 and AQD40/41. The engine has 3600 ccm and 130 hp, or 200 hp, if it is a 41. Max rpm is 3900/4000.
To have the engine to fit in GM:s cars, the oil pan has do be modified, the oil cleaner moved to another place, and the engines water-cold oil radiator be changed to an air-cooled radiator. All about that is in the instruction. As starter you use one from 5 cyl MB 300 D. The starter ring gear in the kit has holes for the most common converters. The engine mountings are not in the kit, only principal drawings.
The kit is only for off road use.

The kit contents following details:
- Adapter, thickness 15 mm.
- Starter ring gear. The converter for the automat gearbox is mounted in that one.
- Adapter in the end of the crankshaft for the starter ring gear.
- Instruction.