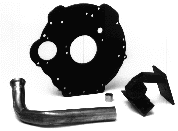 BYGGSATS FÖR BYTE AV MOTOR I RANGE ROVER/LANDROVER TILL MB 240 D 3,0/300 D
Conversion kit for changing engine in Range Rover / Landrover to 5 cyl MB 240 D 3,0/300 D

Denna byggsats passar Range Rover ( och Landrover med V8 ), för byte till Mercedes Benz 300 D och 240 D 3,0. Byggsatsen innehåller alla nödvändiga delar för att enkelt kunna montera motorn. Det som ej ingår i byggsatsen och som kunden själv får göra är i princip elanslutningar och slangdragning. En utförlig arbetsbeskrivning ingår i byggsatsen.

Dieselmotorn monteras något lutande åt höger, detta för att startmotorn skall hamna i avsett uttag i svänghjulskåpan. Motorn passar i övrigt bra i det tillgängliga utrymmet. Ett uttag i övre delen av torpedväggen måste göras för att kunna ta av ventilkåpan vid ventiljustering. Instruktioner för detta ingår i beskrivningen.

Som koppling används Mercedes original med en liten modifiering av lamellcentrum, likaså används Mercedes original startmotor, generator och bränslefilter. Alla dieselmotorer kräver en returledning till tanken, detta finns redan som standard på bilarna.

Har bilen servostyrning används bilens servopump, som monteras på ett fäste som tillverkas efter ritning i instruktionen.

Byggsatsen innehåller följande delar:

- Adapterplatta
- Stödlager ( monteras i vevaxeländen ).
- 2 st motorfästen för montering på motorn.
- 2 st motorfästen för montering i de befintliga motorfästena i ramen ( ingen svetsning eller * annan modifiering behövs).
- Avgassystem ( från ljuddämparen och in i motorrummet).
- Utförlig arbetsbeskrivning med skisser och tips.
Det finns ett förslag att dieselfordon inte skall tillåtas i storstäderna. Detta kommer dock inte att gälla fordon som är 30 år eller äldre, alltså i skrivande stund för årsmodell 1988 eller äldre. Dessa fordon går som veteranfordon, och är undantagna från det eventuella förbudet.

This kit fits Range Rover, Landrover Discovery and landrover Defender, all with V8 engine, for changing engine to Mercedes 5 cyl 300 D, or 240 D 3,0. The kit contains all necessary details for easily mount the engine. What the kit not includes is in principle electrical connections and tubes.
The engine is mounted a little leaned to the right, so the starter will fit in the room for the starter, in the bell house. The engine fits very well in the engine room. A little bit of the bulkhead has to be modified, so it is possible to take part of it away for the valve cover, when the valve has to be adjusted. It is instructions for that in the description.
Mercedes original clutch is used, with a little modification of the friction disc-clutch. Even the Mercedes original starter, alternator and fuel filter is used. All diesels must have return fuel pipe, and that is standard on all cars with carburettor.
If the car has servo steering, it is possible to use, either the original Mercedes servo pump, or the cars pump with a mounting kit, which is made from a drawing in the instruction.
The kit is only for off road use. We don't take any responsibility for other use.

The kit contents following details:
- Adapter
- Bearing and socket, to mount in the end of the crankshaft
- Engine mountings, 2 pieces to mount on the engine
- Engine mountings, 2 pieces to mount in the existing mountings in the chassis. No welding is necessary (on the turbo engines it is only mountings for the left side, on the right side must new mountings be made).
- Instruction.