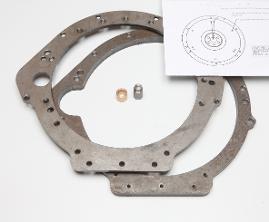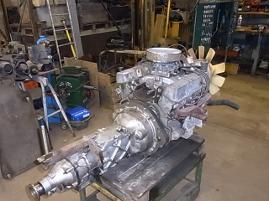 Med den här byggsatsen kan man montera en Rover V8 i Volvos modeller 240, 740 och 940.
Byggsatsen består av två stycken adaptrar, nytt stödlager (pilotlager) med dorn för monteringen, och en ritning hur Rover-motorns svänghjul skall modifieras. Efter svänghjuls-modifieringen monteras en koppling från Volvos motorer, med det plana svänghjulet.
Byggsatsen passar Volvos växellådor som varit monterad på en B18/20 (motorn står rakt) eller varit monterad på B21/23 eller 230 (motorn lutar). Motorfästen bygger man själv.
Det är alltid upp till var och en att kontrollera att Rover-motorn passar i den Volvo-modell, som det är tänkt att montera motorn i, Kontrollera också med Bilprovningen att det är tillåtet att montera motorn i Volvo-modellen.

Byggsatsen innehåller:
Adapter, 20 mm i tjocklek, som monteras på Rover-motorn, och omsluter svänghjulet.
Adapter, 8 mm i tjocklek, som monteras utanför ovanstående adapter, och delvis täcker svänghjulet.
Stödlager (pilotlager) i lagerbrons, med tillhörande dorn för montering.
Ritning som visar hur svänghjulet skall modifieras för att kunna montera en Volvo-koppling.
With this kit you can mount a Rover V8 in Volvo models 240, 740 and 940.
The kit consists of two adapters, a new support bearing (pilot bearing) with a mandrel for mounting, and a drawing of how the Rover engine flywheel is to be modified. After the flywheel modification, a clutch from Volvo's engines is fitted, with the flat flywheel.
The kit fits Volvo's gearboxes that have been mounted on a B18 / 20 (the engine is straight) or have been mounted on the B21 / 23 or 230 (the engine is tilted). You build the engine mount yourself.
It is always up to everyone to make sure that the Rover engine fits in the Volvo model in which it is intended to be fitted. Make sure that it is allowed to mount the engine in the Volvo model.
The kit includes:

- Adapter, 20 mm in thickness, which is mounted on the Rover engine, and encloses the
- Adapter, 8 mm in thickness, which is mounted outside the above adapter, and partially
covers the flywheel.
- Support bearing (pilot bearing) in bearing bronze, with associated mandrel for mounting.
- Drawing, showing how the flywheel should be modified, to be able to mount a Volvo clutch.
- Construction description.